EDFA 1550 CATV Erbium-Doped Fiber Amplifier

Summary
In order to reach high index and dependability, main instruments are all adopted imported famous brand to cooperate microprocessor automatic control circuit and high dependability switch power to assemble up. High dependability, low noise, especially double pump design makes noise index better. Each main technique performance index and technique plane can compare with foreign similar machine. And with high performance to price ratio, it is suitable for using at large or middle-size network.

Performance Characteristic
Imported erbium-doped fiber, and high steady imported 980nm pump laser or 980nm cooperating 1480nm pump (double pump structure), so noise is lower.
Microprocessor automatic control circuit makes both pumps work at best state. Dependability and stability are better.
Front panel blue VFD display, shows various main work status parameters.
Various output power for selection.
RS485 control interface can realize network management status monitor.
19" 1U high-standard framework type installation.
With advanced circuit design, reasonable structure, slap-up material and high index, this machine is suitable for using at large or middle-size network.
Performance parameters

Item
Unit
Parameter
Optical Wavelength
nm
1550
Noise Figure
dB
5.0 dB Output < 20dBm
5.5 dB Output 20dBm
EDFA Input = 0 dBm
Input Optical Power
dBm
-5 ~ +10
Output Optical Power
dBm
14~24 Type l4, 16, 17, 19, 20, 22, 23
Output Power Stability
dB
0.5
Connector Type
FC/APC, SC/APC
Power Supply
V
90~260, 50/60 Hz, 100W (Max.)
Operating Temperature
œC
0 ~ + 50
Storage Temperature
œC
-20 ~ + 60
Operating Humidity
%
85
Dimensions
mm
350 (L) X 485 (W) X 45 (H)
Weight
Kg
5.2

Principle Drawing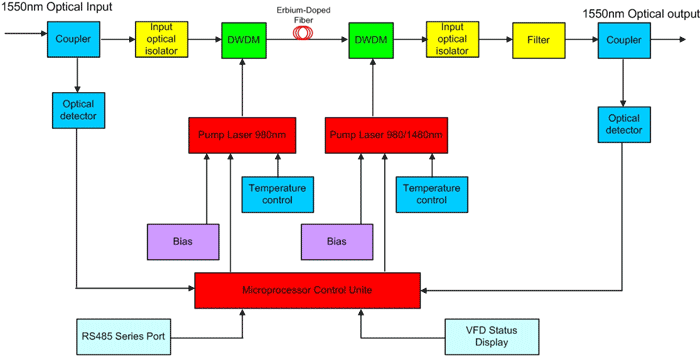 Order Direction
Please confirm optical output power, optical connector type and power voltage when order.

Accessories
1 User's Manual