Fiber Optic Termination Box

Features
The terminating box is wall-mounting type.
The terminating box body is made of quality metal, The material has excellent mechanical strength. It is of nice shape and appearance with electro-static spray painting.
The terminating boxes are designed for easy installation, protected the splices and clearly arranged.
Fiber optic termination box-3 is equipped with adaptor panels , The adaptor panel makes it easy to install, inspect and test. There is a storage structure inside, which can story excess length of cables for future use. It also protects fiber optic splices.
Splice trays with heat shrink protective sleeves.

Fiber Optic Termination Box - 1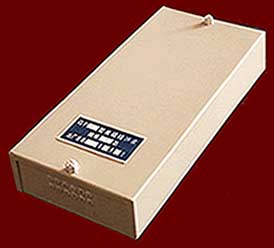 | | | | |
| --- | --- | --- | --- |
| Products Number | Appearance size L*W*H (mm) | Splice tray capacity (core) | Splice capacity (core) |
| FOTB-1 | 300x140x50 | 6 | 6 |
| FOTB-1 | 300x140x50 | 6 | 12 |
| FOTB-1 | 300x140x60 | 6 | 18 |
| FOTB-1 | 300x140x60 | 6 | 24 |
| FOTB-1 | 300x140x70 | 6 | 30 |
| FOTB-1 | 300x140x70 | 6 | 36 |
| FOTB-1 | 300x140x80 | 6 | 42 |
| FOTB-1 | 300x140x80 | 6 | 48 |

Fiber Optic Termination Box - 2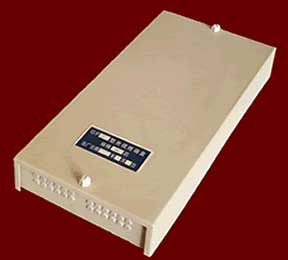 | | | | |
| --- | --- | --- | --- |
| Products Number | Appearance size L*W*H (mm) | Splice tray capacity (core) | Splice capacity (core) |
| FOTB-2 | 350x165x50 | 12 | 12 |
| FOTB-2 | 350x165x50 | 12 | 24 |
| FOTB-2 | 350x165x60 | 12 | 36 |
| FOTB-2 | 350x165x60 | 12 | 48 |
| FOTB-2 | 350x165x75 | 12 | 60 |
| FOTB-2 | 350x165x75 | 12 | 72 |
| FOTB-2 | 350x165x105 | 12 | 84 |
| FOTB-2 | 350x165x105 | 12 | 96 |

Fiber Optic Termination Box - 3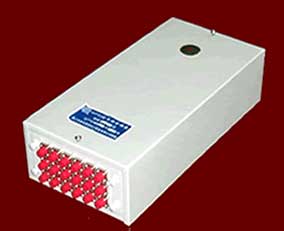 | | | | |
| --- | --- | --- | --- |
| Products Number | Appearance size L*W*H (mm) | Splice tray capacity (core) | Splice capacity (core) |
| FOTB-3 | 340x165x45 | 6 | 6 |
| FOTB-3 | 340x165x60 | 6 | 12 |
| FOTB-3 | 340x165x80 | 6 | 18 |
| FOTB-3 | 340x200x45 | 8 | 8 |
| FOTB-3 | 340x200x60 | 8 | 16 |
| FOTB-3 | 340x200x80 | 8 | 24 |
| FOTB-3 | 400x220x110 | 12 | 36 |
| FOTB-3 | 400x220x110 | 12 | 48 |
| FOTB-3 | 400x220x110 | 12 | 60 |
| FOTB-3 | 400x220x110 | 12 | 72 |